3 things to look for when choosing a flooring contractor – an exercise in perfection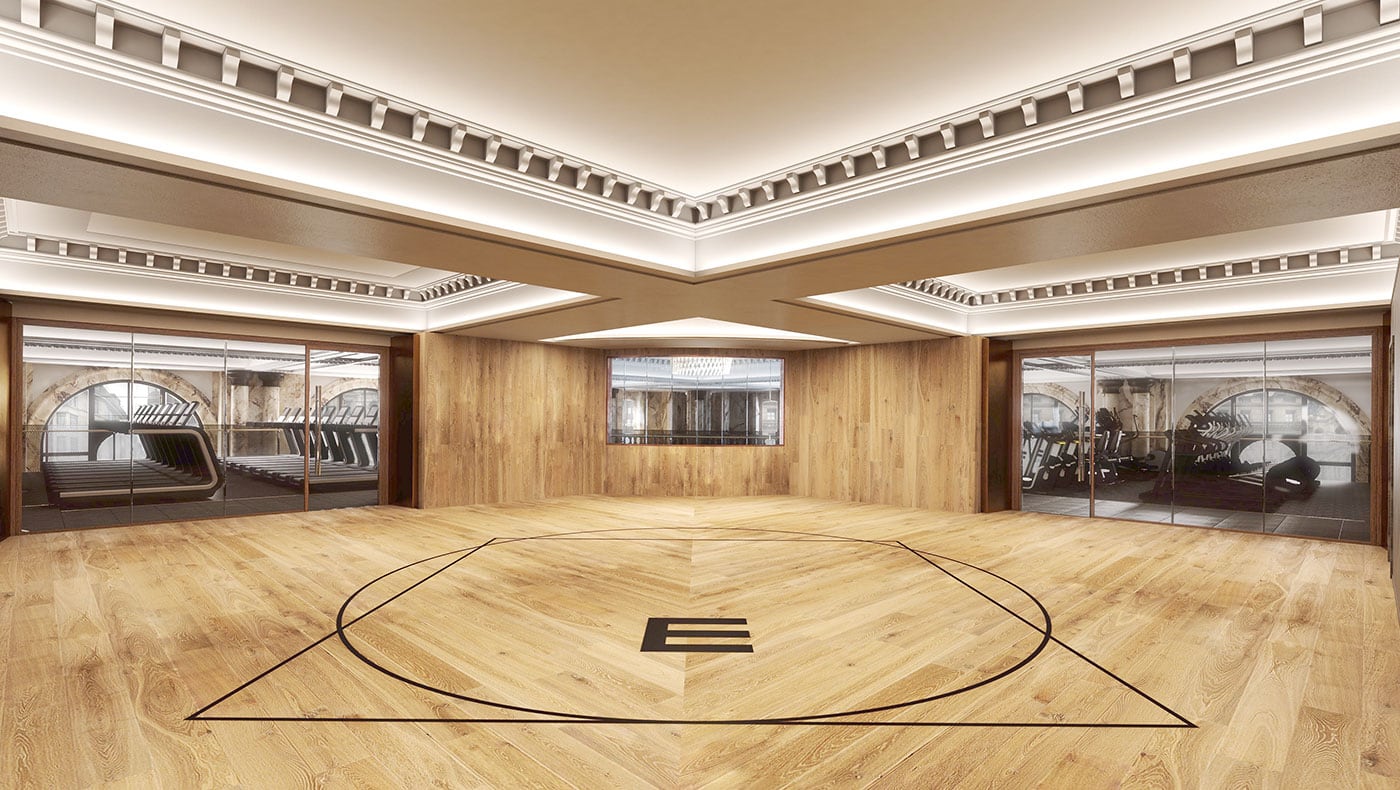 When a global chain of luxury gyms frequented by millionaires and 'A' list celebs, wanted to open its second UK club, nothing less than perfection would be good enough. 'Designed to the most discerning standards of its neighbourhood' this new fitness club is housed in an expansive period property featuring high ceilings and marble columns, near Buckingham Palace in St James SW1. The main contractor knew this was a job for the experts and so chose Loughton Contracts to install the flooring.
E by Equinox combines the pinnacle of personalised fitness and exercise, with lavish comfort. Featuring science fuelled, top-tier personal training, a Precision Running® zone, steam room & sauna, spa and regeneration room, private pilates studio, areas for innovative classes, strength and cardio training, plus a café & member lounge, the scale of the refurbishment was huge.
Added to which, the entire programme of works was then reduced significantly, giving all the contractors involved an extremely tight schedule within which to deliver nothing less than perfection.
However this project clearly illustrates our three key strengths, demonstrating why Loughton Contracts are the preferred choice for prestigious flooring contracts.
1. Collaboration
On projects of this nature there are on average 100+ operatives on site every day, with their associated tools and materials. Inevitably there are a multitude of different trades trying to work around each other and this can potentially lead to clashes.
However, thanks to strong working relationships that we've developed over many years with a wide variety of construction professionals and firms, we do all we can to coordinate with other trades at the planning stage. This facilitates the most sensible flow of work, and is even more important when deadlines change and plans have to be adapted.
What's more, flooring by its nature gets walked on and for us to do our job, there are times when we need to clear an area and restrict access.
It's not ideal when everyone is trying to meet a deadline, but mutual respect means that when we do need to request a no go area, we get it. And in return, other contractors know that Loughton will extend them the same professional courtesy on occasions when it is our turn to vacate a space.
All in all, it makes for a better working atmosphere onsite, a smoother project for all involved and gives the client peace of mind that everyone is pulling together to get the job done.
2. Expertise
With a wealth of materials available, you need a contractor who understands which product will be fit for purpose, meeting both practical and aesthetic requirements, not to mention budget.
In this case for example, we installed acoustic underlay to deaden the noise, echo and reverberation that would otherwise have occurred from the timber flooring, high ceilings and the nature of the gym's activity.
Thanks to varied flooring heights and variations in thickness of the timber (20mm) and rubber (70mm), we also had to adjust floor levels on numerous occasions to ensure that transitional trims would work and the finished effect would be level.
What's more, everything was installed with the utmost accuracy, as we meticulously planned, checked and re-checked, using lasers to get exact lines and levels. This was especially true for the setting out of the central join of the timber planks, which were laid in a chevron effect.
Equally unforgiving were the circular floor boxes that had to be cut into the timber with painstaking precision. And of course, throughout the job, we were religiously testing the timber and site conditions for relative humidity and moisture, to guarantee a successful installation with no post installation expansion or shrinkage. We also installed FID boxes so that this data can continue to be monitored over time. And of course as each new area was completed, we installed extensive protection to safeguard the new flooring from the ravages of the other trades still working in the building.
 3. Versatility
Due to the nature of the project, it was vital that our team could think on their feet and adapt to changes in circumstance on a daily basis. It's something Loughton can do with ease, thanks to years of experience and highly skilled staff.
For example, the reduction in the overall programme length meant that we had to quickly come up with a revised Plan B and even Plan C. We worked days, weekends and nights where required, to ensure each phase progressed.
Areas where high spots of concrete had been removed with a Kango, resulting in a crater effect, needed to be swiftly smoothed out and levelled by us, before flooring could be laid.
In addition, numerous onsite changes cropped up throughout, including having to tweak a few design details for the timber flooring to ensure the most pleasing aesthetic appearance.
All these things and more, were dealt with quietly and without fuss by our expert team, in order to keep the project on track and ultimately deliver a stunning, defect free result, fit for a VIP. It's why we are repeatedly requested by clients and why we are the UK's leading flooring contractor.
Loughton Contracts – We know flooring.
Back to top