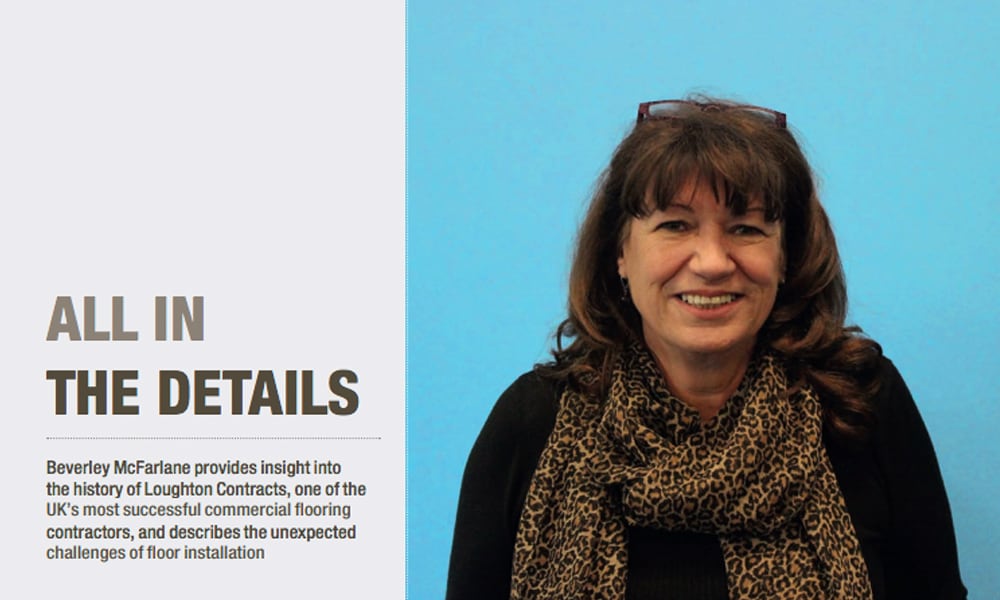 As featured in the

Contract Flooring Journal's May 2018 Issue
ESTABLISHED in the late '80s, Loughton Contracts has grown into the UK's largest commercial flooring contractor with a turnover now in excess of £30m per annum.
Employing over 90 people, like many companies in the flooring industry, Loughton Contracts is a family run business with joint managing directors Paul and Lee Smyth together with their Sister Emma Colletti – marketing director, the board has now been extended to include non-biological family members, with our chairman John Drage, Tony Mills operations director and Ian Brownjohn finance director, to name but three!
To ensure continued growth and development Loughton Contracts have recruited and employed the best possible people from diverse backgrounds, offering equal opportunities based on the employment of the right candidate for the job.
With a myriad of experience in all sectors of the market these men and women ensure that high standards of the most recent legislations, contract law, health and safety, quality management, environmental management, installation and financial standards are achieved and maintained.
I work with two fellow sales directors, Nick Perkins – commercial office and construction sectors and Chan Sau – residential, leisure and hospitality sectors, together with a substantial estimating team to develop and maintain the profitable business levels required by its stakeholders and enable continuous growth and investment for the future.
Diversity of our services into the luxury residential sector and our post installation care service Loughton Direct has also given opportunities for more careers including apprenticeships in many guises, QS's, project management and installation of course. We invest in the funding of these careers offering external support for professional and trade qualifications together with internal training and support on an ongoing basis.
All in all, diversity of the type or work we are doing makes us less vulnerable to the peaks and troughs of business in any one sector of flooring.
Whatever sector we operate in we focus on major projects and avoid low budget work where our structures, investments, certifications to QMS, H&S, FSC and financial performance criteria means that smaller, local contractors are better suited and can thrive.
The main challenges to achieving perfection (once the appropriate product has been selected) are in the planning, programming, sequencing and logistical management. With our skilled, fully trained and experienced installers, the installation is more straight forward once the correct environment has been attained!
Similarly as the breadth of management and installation services offered by Loughton Contracts has diversified the choice of careers has widened extensively too.
Since its formation over 30 years ago, the commercial office sector has been the backbone of Loughton Contracts, with unrivalled recognition by many clients, main contractors, manufacturers and suppliers.
Our dedicated service provision headed up by our divisional directors, quality and health safety manager, installation directors, project managers, quantity surveyors, supervisors, document controllers, administration support, delivery drivers, warehouse manager and last but not least, the life blood of our company, our many specialist installers working tirelessly day in, day out, to achieve our goals in achieving our H&S, quality management, environmental management, supply chain management and installation services.
We are fully accredited and audited by UKAS accredited ISO 9001 management, ISO 18001 health & safety and ISO 14001 environmental management systems and protocols, offering FSC with full chain of custody accreditation.
While Loughton Contracts didn't suffer heavily as a result of Carillion's collapse, regrettably very many smaller companies had and would be impacted much more with problematic losses to fund. We were doing Battersea Power Station for Carillion which was a huge £7m+ contract and we only finalised our account in November 2017, so if the settling of our account had been delayed much further, our losses could have had a major impact on the business.
Our retention of circa £110K which would have been due for payment in November 2019 will not be realised, however the impact to our business this year, thankfully, is none.
This demonstrates why the CFA continues to work tirelessly on our behalf working with Build UK and other specialist contractors lobbying for no retentions in the near future.
What is a reassuring observation though is that we are beginning to see many clients and main contractors being more diligent to visit their supply chains to interrogate financial information and the impact of Carillon's collapse – while this doesn't help businesses who have suffered losses, the impact and their survival could be the ability to fi nance and win future work – but while we don't know the exact amount of the impact in our industry, we do know that £1.5bn – £2bn is going unpaid and that proportionately the impact is massive on numerous small to medium sized businesses.
It may make us all more diligent and risk aware of the low margin high volume workload, which is totally unsustainable. Additionally, more due diligence by us as sub-contractors is required on the fi nancial performance and stability of clients and contractors and their subsequent ability to pay us.
Carillion's demise was nothing to do with Brexit, it's about the low bid, high turnover, low margin, high risk culture of contracting, with many main contractors making under 1% net margin. With the risk being pushed down to the specialist sub-contractors, their survival and prosperity can be so fragile.
Our most significant challenge (and there are many) apart from making a profit, is the education of main contractors, clients and other trades to properly and professionally programme and sequence flooring works. There is a severe lack of understanding of delays and additional costs associated with poor conditions on site because of this. You need to have a watertight building, dry with the heating on and areas clear of other trades. Lack of the correct environment and putting all the trades together to fall over each other, is probably the most frustrating challenge for any of our people trying to deliver a safe environment for our management and installation services to deliver a quality end result and the recognition and fair timely payment for a perfect, on time completion.
If the industry can achieve a certain level of professionalism and improve our 'Game Face' continuously, recruit, educate and train staff to care about what we do and the way we do it, confidence will increase, snagging will decrease, and our reputations as businesses properly run and managed would be recognised, ensuring that we are appreciated more and properly paid for the work we do.
That's the bit that has been slow coming, not through the CFA's fault but through cyclical recessions, bad practice and the way the construction industry has behaved on occasion, we are our own worst enemies.
There have been vast improvements, in health and safety, the use of technology and in many other areas we continue to improve as an industry albeit rather slowly. I think the good thing is at least we are all trying hard to elevate our status, which will ultimately attract young people to perhaps consider the construction industry more favourably when looking for a career, because it is ultimately a great industry, with great people and every day is different.
02085 089394
www.loughtoncontracts.com
Back to top