How to choose the right underlay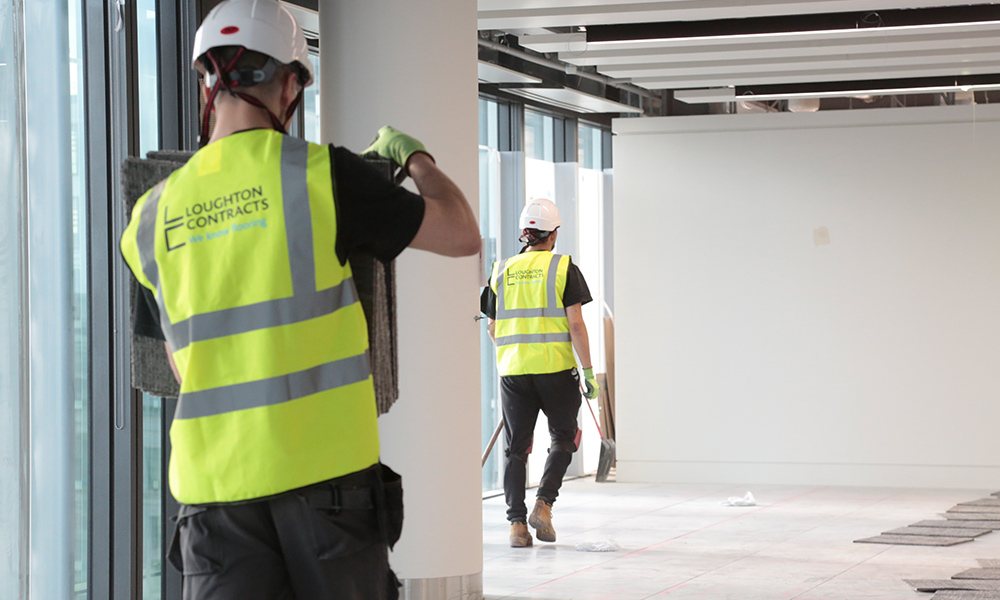 The secrets of what lies beneath
It's not often we really think about what lies beneath, but underlay is an important element of your flooring. Get it wrong and it can affect the performance of your carpet.
As the leading flooring contractor in the UK, we know flooring. We understand how important it is to get the right underlay if you want to avoid a costly mistake. Here's our 'how to' guide to help you through the underlay minefield.
Why you should fit underlay
Comfort: New underlay makes your carpet feel better. Think of it like a mattress for your floor – providing the cushioning comfort for people when they're on the carpet. Your feet will thank you!
Protection: Underlay will protect your carpet, keeping it looking like new. In fact, it can increase the lifespan of your carpet by 30 – 50%. It works by giving the carpet essential support to help prevent the carpet pile from flattening. Much the same way as a shock absorber works on your car, an underlay gives a more comfortable ride while lengthening the life of the carpet.
Good investment: It can be easy to think that as you don't see underlay you can make do without it. Although it's an extra expense, in the long-term it will save you money. An unprotected carpet, or one with an old or poor-quality underlay, will simply not last as long. So, you'll need to spend money replacing the carpet sooner than you would otherwise.
Reduces energy costs: Top quality new underlays can have tog ratings of up to 2.7. Some flooring experts have suggested that these can reduce energy costs in a room by up to 15%. The underlay helps to keep the heat in due to its composition, thickness and density.
Noise reduction: New underlay helps to reduce in-room noise by creating a barrier to sound. Carpeted floors are pretty quiet already, but a carpet with an underlay can be more than twice as quiet. Even wood and laminate floors, which are notoriously loud, can be made up to 30% quieter by using a specialist sponge rubber underlay.
It's easier to clean: Yes, it might seem strange, but new underlay will protect the carpet pile, making it easier to clean and a lot more hygienic. And by acting as a barrier between the carpet and the floor below it will prevent dust and dirt getting into the carpet and damaging the fibres.
Protects your warranty: Many carpet companies only provide a warranty if their carpet is fitted with a new and appropriate underlay. Why? Well, for all the reasons listed above.
Which underlay for which floor?
Knowing that it's a good idea to have underlay is one thing but knowing which one you need is quite another. In actual fact, it's pretty straightforward. There are three main types of carpet underlays – sponge rubber, crumb rubber and PU foam.
Sponge rubber: This is the UKs most widely used underlay. It's made from synthetic rubber, usually constructed as a waffle, which is filled with little bubbles of air or a textured flat with a thick wall of spongy rubber.
Sponge rubber underlay is really flexible and it's available in a very wide range of thicknesses and qualities, depending on your needs and budget. There are three primary grades of comfortable underlays: Luxury (premium comfort), General Domestic (very good everyday comfort) and Light Domestic (good comfort, usable around the home, but not recommended for stairs).
Most British homes will have a sponge rubber underlay. It's been used for about fifty years and is quite heavy (from 25 – 45kg a roll) because it's made to support intensive foot traffic on the carpet. If you're worried about the weight, you could consider PU foam underlays as they are much lighter.
Crumb rubber: Crumb rubber underlay has been around for about sixty years and is having a bit of a renaissance recently as it's both incredibly hard wearing and recycled. Crumb rubber is made from recycled car tyres (approximately one car tyre per square metre) and, not surprisingly, it's very hard-wearing. This makes a crumb rubber underlay ideal for high traffic areas where the carpet is going to be well trodden, such as halls and stairs, and rooms which will have heavy furniture.
It can be frustrating when you move furniture around a room only to find that you're left with marks in the carpet that just won't go away. Crumb rubber underlay will help recover from pressure marks left by furniture, leaving you carpet as good as new.
It's not as comfortable as sponge rubber but it feels good underfoot and will protect your carpet for many, many years. If you are looking for an environmentally friendly underlay, then go for crumb rubber.
PU foam: This is made from recycled furniture foam and is both very comfortable and lighter in weight than rubber underlays. Most PU foam underlays are around 15-20kg per roll. They have slightly better tog ratings than rubber and can be used all around the home. However, they're a bit softer than rubber underlays so are not the best choice for heavy traffic areas or where heavy furniture might be placed.
Installation considerations
Always get your underlay and flooring fitted by a professional. Don't be tempted to cut corners with the fitting as it's a false economy.
Underfloor heating
If you're installing an underfloor heating system, you can still have underlay. There are specialist underlays available which allow heat to radiate through into the room, so you don't have to go without.
Underlay thickness
In commercial settings, it's not uncommon to have more than one type of flooring in a single space. This means that carpet may need to sit alongside timber or vinyl. Underlay comes in a host of different thicknesses and it's important to fit one that will ensure your carpet is level with adjoining rooms, fits with floor to ceiling windows and alongside other types of flooring used.
This is particularly important with inset rugs, which are becoming increasingly popular. The floor design includes a carpeted area set within another floor type, such as, timber or ceramic tile. The underlay needs to be the right thickness so that the inset rug (carpet) sits flush with the rest of the floor.
We know flooring
Back to top