How to look after oak flooring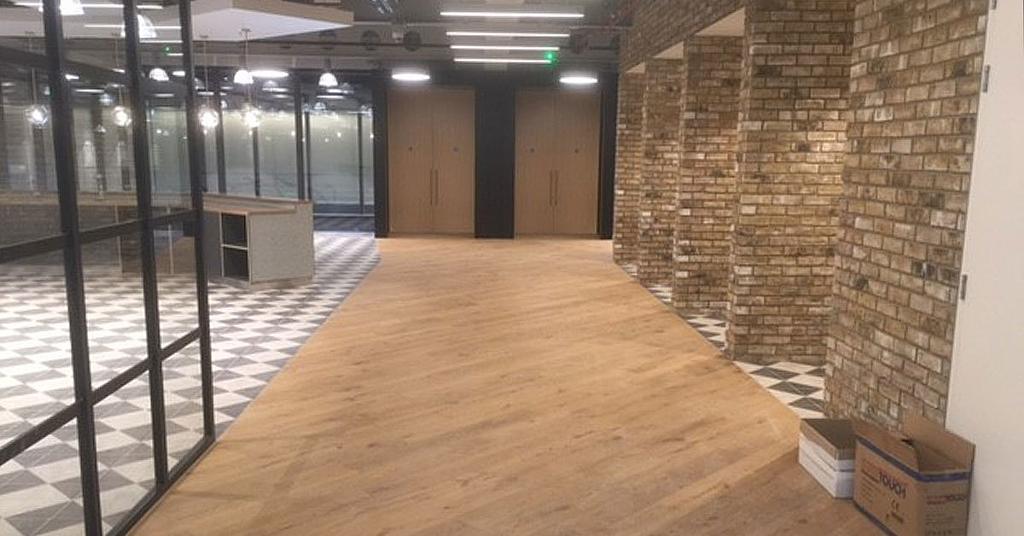 The video is us sanding and sealing a client's floor, leaving the floor looking as good as new. The work was done out of hours so no downtime.
Five ways to keep your oak flooring looking like new
The right flooring can make a real difference to the look and feel of a room. It's easy to think that once the flooring is laid all the work's done, but to keep your floor looking like new, takes a bit of care and attention.
Oak flooring is an elegant floor choice and gives a high-end look to any space. It is a natural product though, so needs to be looked after in the right way. Use the wrong cleaning product on it and it could leave marks which are costly to remove.
We've been in the flooring industry for more than 30 years, so we know what we're talking about. Here are our top aftercare tips to make your oak flooring last longer.
Top tips for looking after your oak flooring
Daily cleaning
To make sure your flooring lasts the distance, it's important to clean it daily. Oak floors need to be cleaned with the correct cleaning products to protect the oils which coat it. Bona provides products for the installation, maintenance and renovation of wooden floors. And to look after your oak flooring, we'd recommend using their Bona Wood Floor Spray Mop.
The mop allows users to spray the floor with a suitable product which will keep the floor clean while protecting the finish. Oak flooring should also be vacuumed or swept at least once a week to pick up any particles which might scratch it. Grit and dirt, if left on the floor, will act like sandpaper and dull the finish.
Planned maintenance
As well as daily cleaning and weekly vacuuming, oak flooring needs to be treated at least once a year to keep it in the best condition. If regular maintenance isn't carried out, the floor will need a more costly and disruptive treatment. Your flooring contractor should be able to carry out any planned maintenance for you, including minor repairs, rebuffing, and oiling of the timber.
Loughton Direct clients can view their detailed online operation and maintenance manual, to identify which products have been installed and their exact location.
There are images to show which products have been used and a building plan so users can see where the different types of flooring are installed. Maintenance data is also available to outline when daily cleaning or deep cleaning is needed.
Install entrance matting
In a commercial setting, it's unreasonable to expect people to remove their shoes when they come into the building. This means, dirt and grit can make their way onto your floor. Did you know, up to 90% of the dirt entering a building is walked in through the front door on the soles of people's shoes.
Fitting entrance matting will save money in the long run, as £1 spent keeping dirt out of a building will save £8 in removing the dirt once it's inside.
Make sure that the matting covers a big enough area too. When was the last time you walked into an office or apartment building and wiped your feet? Making sure the matting allows people to walk off excess dirt and moisture will make a difference.
Entrance matting doesn't have to be boring or ugly. At Loughton, we help our clients get an entrance matting system that will not only protect their floor finishes, but also help create the right brand image.
Use felt pads
Oak timber is a natural material and although it's pretty strong, it can be scratched and dented. To minimise the risks, fit felt pads to the bottoms of chairs and other items or furniture which are likely to be moved.
This is an inexpensive and the cost of fixing scratches on your oak flooring will be much more expensive and disruptive. To remove scratches the area of floor would need to be sanded and then re-oiled.
Plastic and rubber floor protectors are also available but we would always suggest felt for use on oak timber floors to avoid scuff marks.
Protect from spillages
In a busy work or retail environment, spillages are likely to happen. It's important that if a drink or other liquid is spilled onto the floor it's cleaned up quickly. The longer liquid is left on the floor the more damage it can do. Oak timber is porous and water marks can be difficult to remove. Too much water damage will also cause the timber to swell or warp and it would then need replacing.
Make sure spillages aren't cleaned up with a wet mop. Always use the products that have been suggested by your flooring contractor.
We know flooring
It goes without saying that to give your flooring the best start, always get it fitted by a professional. Oak flooring needs to be laid at a certain temperature, so some preparation and planning is needed.
As the leading UK commercial flooring expert, we know flooring. Loughton Direct, a division of Loughton Contracts, works with clients to help them look after their flooring, whether it's oak, vinyl, carpet or stone.
To maintain the look of your oak timber flooring, speak to one of our professionals about which aftercare products and techniques will best suit your needs. Please call us on 0208 508 9394 for more information.
Back to top