Achieving perfect flooring on your stairs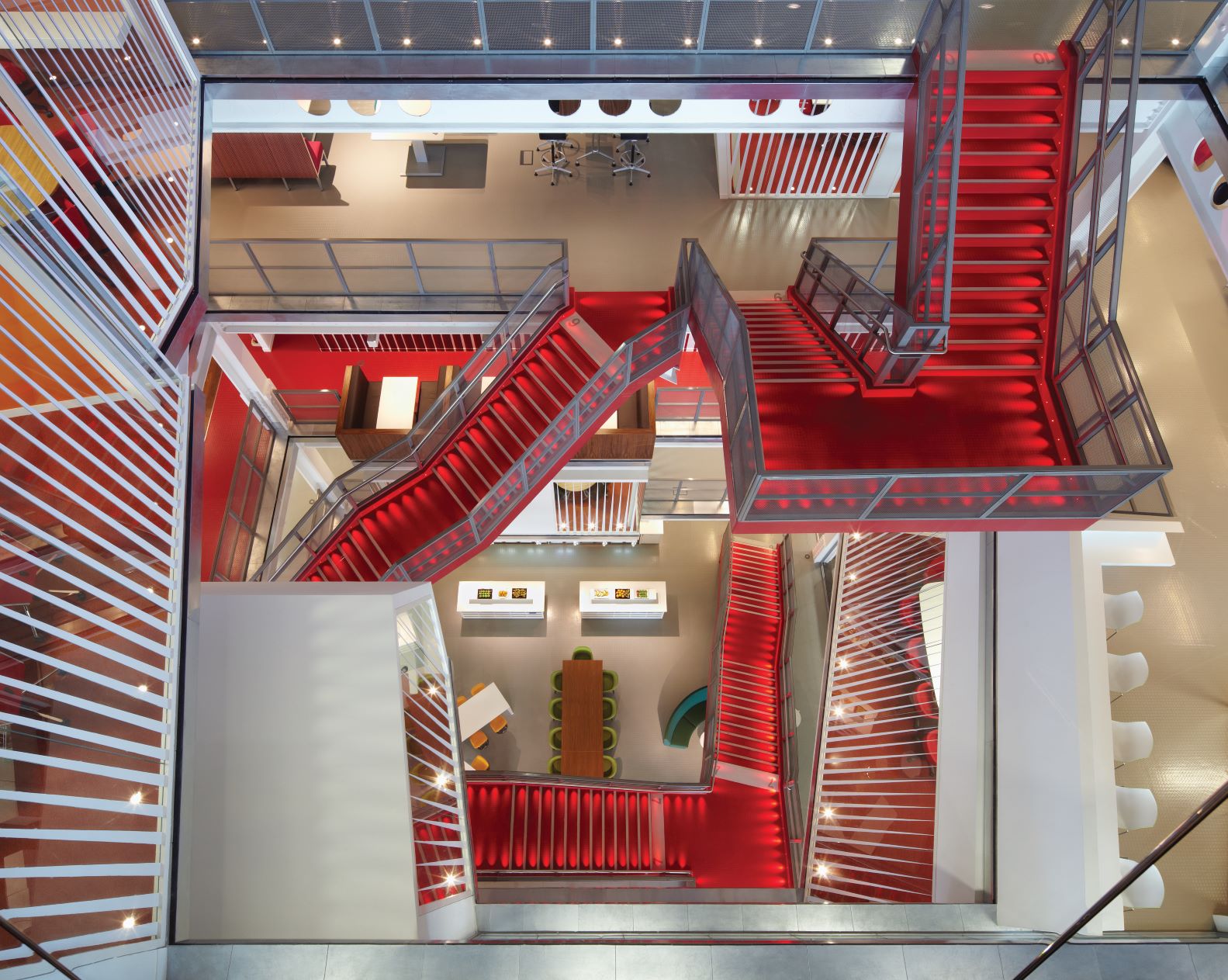 How to treat these important parts of your building
Whether a staircase is designed to be the focal point of your space or it's hidden away, deciding on the type of flooring is an important decision. With about 10 inches of flat surface per stair, can you fit any flooring type and how do you fit the flooring correctly?
We outline some top tips below.
Are flooring choices reduced for stairs?
Staircases need to be functional but if they're a focal point in a room, how they look is important. The material you choose to cover your staircase is dependent on accessibility needs, level of footfall, the style of staircase, room design, and budget.
We can fit LVT, broadloom carpet, carpet tiles and rubber. We also fit hard wood flooring too. Here are some things to consider before you choose your floor covering.
Carpet provides a soft and quiet floor covering and can also be one of the safest options for stairs too. If you choose a carpet which is designed for heavy footfall, then it is well placed to withstand the rigours of a busy stairwell.
For a feature staircase, hard wood flooring can be laid to provide maximum impact. Timber flooring has become a popular choice for designers wishing to create a high-end look. Laminate flooring is another option which gives a similar look, if the budget doesn't allow for hard wood.
Rubber is a safe covering for stairs and can also help to limit noise from footsteps. It is well suited to commercial buildings and emergency exit staircases.
You could also consider a ceramic tile. It's extremely hard wearing, although for safety reasons, the finish of the tile would need to be rough rather than completely smooth.
How do you get perfect looking and safe flooring on stairs?
Before any flooring is laid on staircases, you need to consider the following:
If the fit out involves replacing an existing floor, you need to ensure any old flooring has been removed and that the surface has been properly prepared.
Stairs are often left until the end of a flooring project so it's important that any sub-floor is at the right level otherwise flooring could become uneven. You are looking for a flat level between the stairs and the other flooring.
If the stairs are going to be carpet, but the rest of the flooring is timber, for example, we make sure the levels are blended correctly. Adjusting the levels of sub-flooring and the quantity of materials used will ensure a consistent level.
With our industry experience, we will always suggest alternative materials if we feel it is going to be safer or give a better finish. We'd much rather show alternative samples before the work is carried out, just to make sure there isn't anything better suited to the client's needs.
If the stairs are hidden by a doorway, there may be two types of flooring coming together. If that's the case, it's important to blend the flooring well. We always do a half-door shut join, which means that the join in the floor sits underneath the door. Attention to detail like that will make a big difference to the overall look of your space.
Health & Safety requirements
To reduce the risk of trips and falls on staircases, stairs must have good slip resistance properties, particularly at the leading edge. Usually, this would be an Insert strip of slip resistant material; such as a carpet Nosing edge trim, laid on each stair tread.
Depending on where the stairs are and what they're used for, there can be other health & safety requirements, including the use of colour to highlight the edge of each step. Our expert teams are fully qualified to offer advice so that staircases not only look good, but they're safe and legal too.
ccess to stairs during work
While flooring is being fitted to stairs, whether it's a cantilever staircase or a standard emergency exit stairwell, the area will be out of bounds. It's important this is discussed before the work starts, particularly if other contractors are working in the building.
The project might be to replace existing carpet on the staircase of a building which remains occupied. We understand how tight the deadlines can be on a project like this, which is why we can work out of normal business hours if costed to do so, to limit the level of disruption.
BREEAM considerations
BREEAM, the world's leading sustainability assessment method for buildings, recognises the well-being of the people who live and work in those buildings and helps protect natural resources. When a project is following BREEAM guidelines, considerations need to be made about the materials used and how the environment will affect the end user.
We know flooring
It goes without saying that to give your flooring the best start, always get it fitted by a professional.
As the leading UK commercial flooring expert, we know flooring. Whether it's a staircase for your fire escape or a feature spiral staircase, we can advise on the best materials, BREEAM considerations, fitting and aftercare options.
Back to top