Home
›
News
›
Team Loughton take home the 'Flooring in Residential Developments and Social Housing' award!
Team Loughton take home the 'Flooring in Residential Developments and Social Housing' award!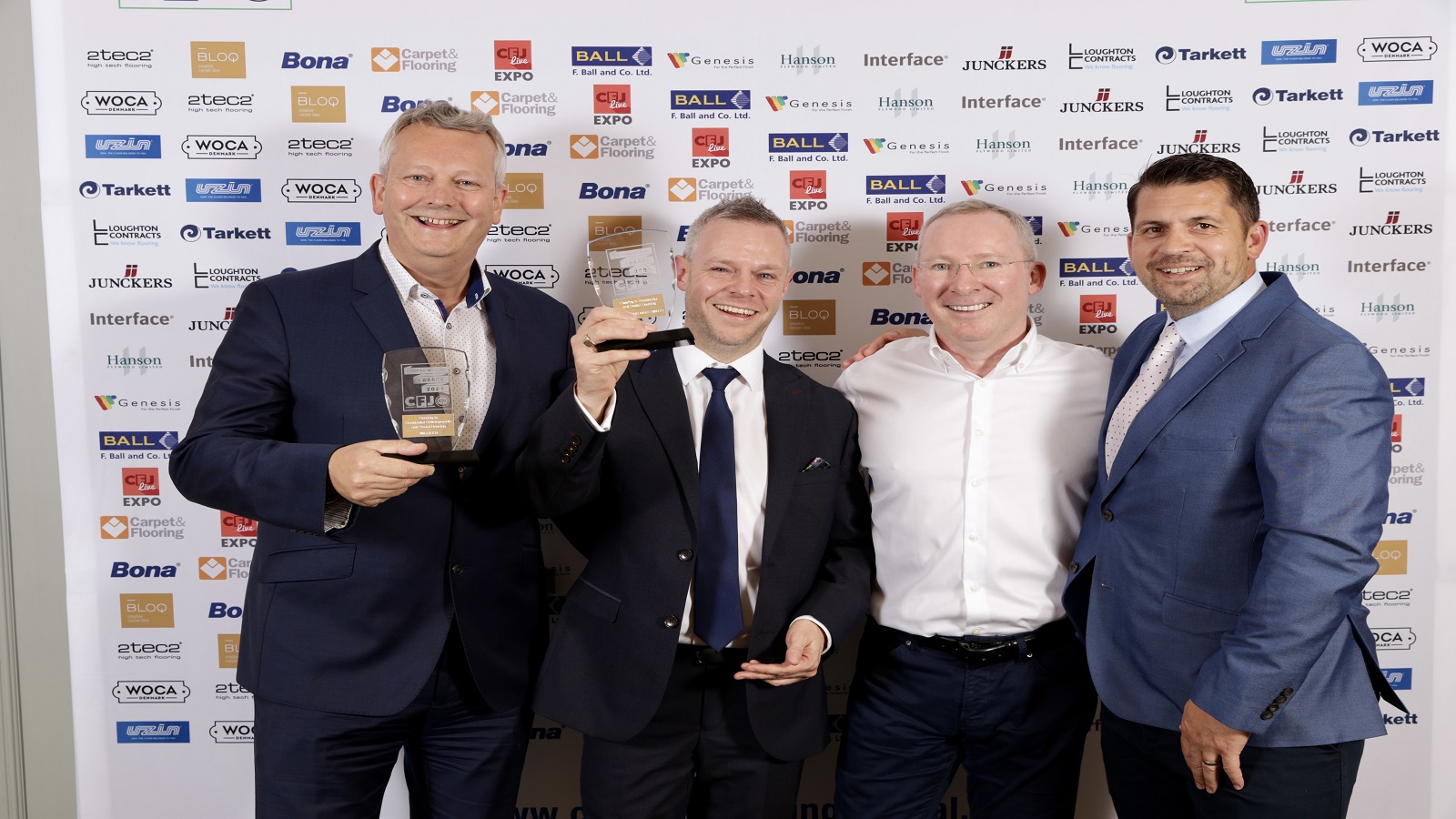 We are delighted to have won Installation of the Year with Havwoods and Milliken in the 'Residential Developments and Social Housing' category.
Newfoundland is a 60-storey residential development at the western end of the Canary Wharf Estate, designed by leading architects, Horden Cherry Lee. The completion of the project in 2020 saw a near decade long period of engagement between Loughton Contracts and main contractor, Canary Wharf Contractors, come to fruition.
The project comprised of circa 55,000m2 of raised acoustic saddle flooring supplied by CMS Danskin featuring a mixture of 18mm chipboard or 18mm Smartspan board overlay laid onto an adjustable timber batten seated acoustic cradle system. This was laid throughout the apartments and communal spaces within the tower. Being a dry floating floor system, it eliminated the need for wet trades, greatly improving the project programme as well as being significantly weight saving compared to screed, both benefits which the client was attracted too. The system also helped to provide effective noise reduction from impact and air bourne sources whilst at the same time providing the ability to easily level the subfloor providing a suitable base for the timber floor finish.
The bespoke 14mm engineered Oak timber flooring supplied by Havwoods was laid throughout the living areas within the 636 apartments and totalled over 27,000m2. In the bedrooms, over 12,000m2 of a bespoke luxurious soft touch deep pile carpet was sourced and coloured to the client's exact requirements.
In the communal corridors, Milliken supplied 3,500m2 of their beautiful Arctic Survey product. Being carpet tiles, this reduced the wastage factor that having a broadloom carpet would have resulted in and makes it easier to maintain and replace in the event of future damage.
The job had to be completed in conjunction with COVID-19 guidelines, so a strict one-way system was adhered to, which is challenging and can add time on to your work. The project needed to be finished in line with the original projected end date, and with the pandemic, it stopped us going on site for a couple of months following the first lockdown announcement. It then made the programme very tight for time, so any time on site, could not afford to be wasted.
"The completion of the iconic Newfoundland Tower brings to the residential market the second tallest building on Canary Wharf and a significant addition to the private residential market in the area. As a key, trusted member of Canary Wharf Contractors Ltd supply chain over the past 20 years, we were pleased to engage Loughton Contracts on this prestigious project, where they delivered significant installations of suspended acoustic floors over the 58 floors of the building, finished with installations of timber, carpet and vinyl. Their commitment to programme and eye for detail provided floor finishes on the project of the highest standard, and ensured the interior of the building matches the stunning, diagrid exterior."
Alec Vallintine – Managing Director of Canary Wharf Contractors
Back to top